New Minister for Disability Services
As we're sure everyone is now aware, the results of the NSW State election are now finalised and we have a new Minister for Disability Services in Gareth Ward, who will also hold the Families and Communities portfolio.
PDCN welcome Minister Ward, a person with disability himself, to this role and look forward to meeting with him in the very near future to discuss the vital work we do, and the precarious situation we find ourselves in with regard to long-term funding.
To this end PDCN's President Mr Chris Sparks has been making representations on our behalf. The NSW Disability Advocacy Alliance (Stand By Me Campaign) has also had a proactive invitation from Minister Ward to meet him and will do so in early May.
We'll keep you posted on any outcomes from these meetings!
PDCN's CEO was also very heartened to see the below sign in Premier Berejiklian's local electorate office window on her morning walk last Monday and will be chatting with the Premier further on her obvious support for the Advocacy sector!

We're Working to Make the Opera House More Accessible – and We Need Your Help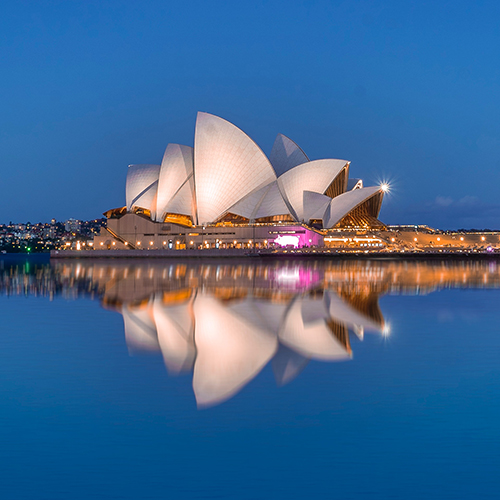 As part of our proactive advocacy work for access and inclusion in entertainment venues, PDCN approached the Sydney Opera House to see how we might influence access and inclusion in Sydney's most iconic performing arts venue.
We're now reaching out to any of our members and supporters who have visited the Opera House to take part in a briefing session and consultation to address the ongoing barriers to accessing the Opera House, covering all parts of the customer experience. The information obtained in this consultation will inform the Opera House's new three-year strategic access plan.
This briefing will be led by the Access Manager of the Sydney Opera House and will either occur at PDCN's office in Glebe, or at the Opera House. Numbers are limited, so if you would like to take part , in this consultation, please register your interest via an email to admin@pdcnsw.org.au or by calling us on 1800 688 831. We'll be able to confirm the location after registration.
Motorised Mobility Workshop and National Regulation Changes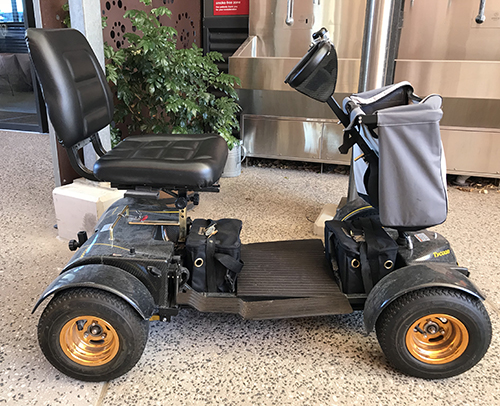 Early this month PDCN was invited to take part in further national consultation on the development of Motorised Mobility Device (MMD) performance requirements, technical specifications and suggested National Standards for public transport and road-related use.
This day brought together Austroads, the National Transport Commission, government departments, various industry bodies and the disability sector to progress suggested weight and size limits, and options for licensing and regulation of MMDs.
As always discussion was robust and there's still more work to be done in some areas, however it seems there's good consensus on getting one consistent set of national regulations, and reasonable agreement on increased unladen mass (170kg for motorised scooters and no maximum weight for power wheelchairs). There's also far greater awareness that powerchairs are not a 'choice' for those who use them, and that any regulations must ensure that powerchair users' basic human rights and access are not impeded by any regulation.
On the other hand, there is still much debate on the issue of device labelling, and whether the two suggested white and blue labels may not encompass enough of the mobility devices currently on the market and in use, nor consider new technologies becoming available.
As you can imagine, PDCN has considerable interest in ensuring whatever is put in place is reasonable, and adds to people's choice and access options, rather than restricts them – and will continue to monitor and feed into the discussions moving forward.
NDIS Plans in Practice – Baulkham Hills and Bankstown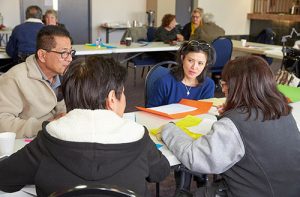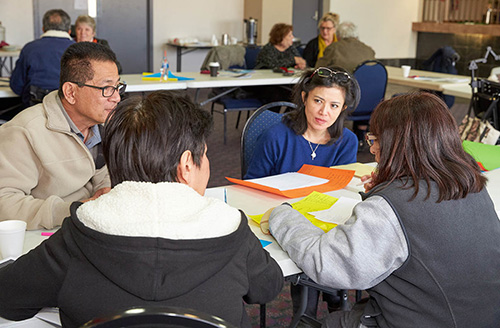 Do you live around Baulkham Hills or Bankstown, and have an existing NDIS plan? Maybe you care for someone with an NDIS plan? We know it can be very confusing to navigate the system and get the best use out of the NDIS, which is why we're offering our FREE 'NDIS Plans in Practice' workshops in these areas on the following dates:
Baulkham Hills – Monday, 13 May
Bankstown – Friday, 24 May
Both venues are fully accessible, and we also provide free morning tea and lunch! Learn more and register by clicking the green button below.
New Grants for ILC and Volunteers
This month has been a very positive one with PDCN receiving two grants to assist our work into the future.
The first is a one-year grant aimed specifically at Disabled People's Organisations (organisations that have a majority of board and members who are people with disability) which allows us to continue to develop better governance and processes across the organisation. In addition, we'll have the ability to continue to roll out further sessions to help individuals with capacity building and self-management skills.
The second is a very small, but worthy grant that helps us support the needs and cost of volunteers working for PDCN.
Both grants are greatly appreciated, and we acknowledge the National Disability Insurance Agency and Department of Social Services respectively for these generous funds.
Welcome New Staff Members
We're delighted to welcome two new staff members to PDCN's Glebe office. Jane Scott has taken up the mantle of Peer Support Group Project Officer previously worn by Sarah Humphery, who has moved on to pursue new artistic opportunities overseas. Jane comes to us from work in politics as a disability working group convener, and also teaching English as a second language. She will oversee the popular Peer Support Group program, continuing to develop capacity-building networks for people with disability, facilitated by people with disability.
Stuart Greenfield has also joined us as a communications intern, and will be working across PDCN and the Stand By Me campaign for disability advocacy. Having previously worked in radio, we look forward to Stuart's contribution as we continue to tell the story of disability advocacy's importance to good governance and improving the lives of people with disability.