Peer groups are a collective environment encouraging people with disability to share stories and learn from others in a similar situation in a place that is safe and free from judgement.
Meeting monthly in an accessible location, including online options, peer groups are led by skilled facilitators with personal experience of disability. They facilitate the group in topics of interest helping group members achieve personal goals and learn new information. Some of our groups also attend social outings on occasions.
At times, our peer groups invite guest speakers and presenters on topics which are relevant to our project outcomes and outcomes determined by the group members.
Examples of topics that may be discussed:
Information and a better understanding of any aspect of the NDIS;
Self-advocacy, assertiveness, and your rights or the rights of your child;
Resilience during and beyond the coronavirus pandemic;
Enhancing independence;
Relationships;
Adapting to change;
Practical living skills;
Travel accessibility (local, interstate and overseas);
Accessing your community and activities;
Barriers – internal or external.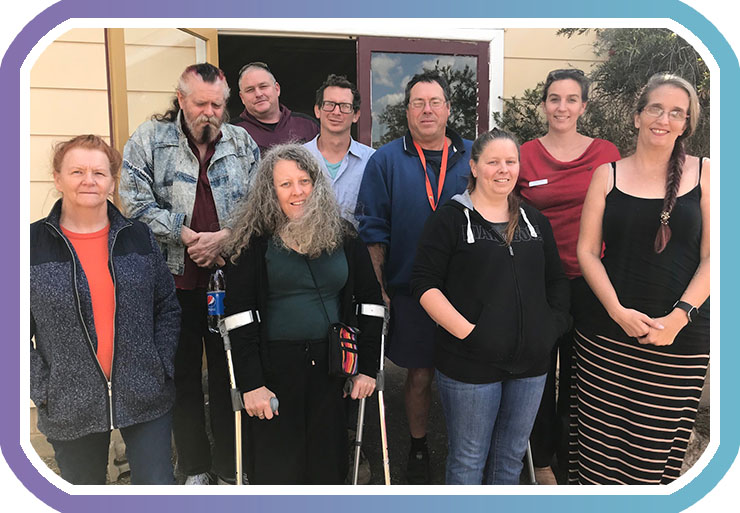 Noah's Inclusion Services
The Parent Room
This program helps parents feel supported and learn new knowledge and skills to care for their children and get the services they need.
Sessions are held monthly during the day and evening to local families of children with disability.
Locations: Nowra, Ulladulla and Sanctuary Point, NSW
For more information on The Parent Room, register your interest using the form below or visit the Noah's website.
Muscular Dystrophy NSW (MDNSW)
Peer Connect
MDNSW believes that people with disabilities are experts in their own lives. Connections are important, especially in these times, so MDNSW runs a mix of online and face-to-face groups.
Groups: Info Share and Condition Specific
Locations: Online and various locations in Sydney
For more information on MDNSW groups, register your interest using the form below or visit the MDNSW website.
Shoalhaven Peer Group
Self-Advocacy Peer Group
This monthly peer group is predominantly for people living with intellectual disability. Our facilitator assists members in building capacity, confidence and connection with other members.
If you live locally, transport may be provided.
Locations: Shoalhaven (face-to-face)
For more information, register your interest using the form below.
PDCN Social Group
Quarterly Peer Group
PDCN's quarterly peer group is for anyone living with physical disability and their families to get to know each other and at times do some fun activities!
Locations: Sydney, and varies between online and face-to-face.
For more information, register your interest using the form below.
Funded by the Australian Government Department of Social Services.
Visit www.dss.gov.au for more information.