At PDCN, we offer one-on-one peer mentoring to people with physical disability and to parents or unpaid informal supports of people with disability.
Our team have lived experience of disability and can assist you with ideas, goals, or challenges you may be working through. We can even help you start some new hobbies!
You are the expert in knowing what is best for you however, sometimes talking to someone outside of your regular circle may help you gain clarity, more information and opportunities.
Some examples of topics we can help with are:
Information and a better understanding of any aspect of the NDIS;
Self-advocacy, assertiveness, and your rights or the rights of your child;
Resilience during and beyond the coronavirus pandemic;
Enhancing independence;
Relationships;
Adapting to change;
Barriers – internal or external;
Practical living skills;
Travel accessibility (local, interstate and overseas);
Accessing your community, starting a new hobby or activity.
Adrian O'Malley – Peer Facilitator & Mentor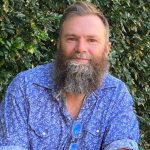 First and foremost, Adrian is a dad, horticulturalist, outdoor enthusiast, and an avid bird watcher. Adrian survived a stroke in 2006 resulting in physical disability and vision impairment. He has worked in the disability sector in various roles for more than nine years ranging from community engagement, training to Support Coordination with NDIS participants.
Adrian joined PDCN in April 2020 in the role of Peer Facilitator and Mentor working closely with people with disabilities, and their families, to help work towards goals and build capacity and independence. Adrian's role also includes facilitating PDCN's workshops in Speaking Up for Yourself, Post-Traumatic Growth, NDIS Self-Management and Disability Inclusion.
Our team have a wealth of knowledge with lived experience of disability. If you are interested in individual peer mentoring or a less formal chat, please contact us or register your interest using the form below.
Register Today
Funded by the Australian Government Department of Social Services.
Visit www.dss.gov.au for more information.