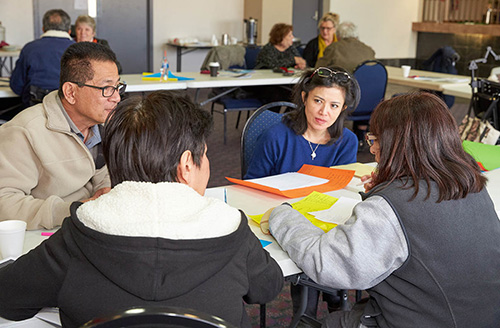 These free small group workshops are designed for people with disability who currently have an NDIS plan, or family or friends who support a person with an NDIS plan. The workshops assist people to better understand or make use of their NDIS plan, or to prepare for a plan review.
NDIS Plans in Practice workshops are facilitated by people who have knowledge of the NDIS and extensive experience in the day-to-day management of an NDIS plan for people over seven years of age.
The workshops can be responsive to the needs of individuals and topics can include:
Understanding your plan and the portal
Clarifying management options (self, agency, plan)
Demystifying self-management
Redefining your goals
Preparing for your plan review
Other topics can include:
Understanding your funding and flexibility
Making service agreements
Finding and managing staff and support workers
You will be provided with information to assist you in having more choice and control over your daily life.
2019 Locations and Dates
We have NDIS: Plans in Practice sessions scheduled at the following locations and dates
All workshops are 9:30am to 2:30pm, and are held in fully accessible venues.
If you know a small group of people in your area who would benefit from attending a Plans In Practice workshop, please contact us and we'll look at planning a workshop in your area.
For more information call the office on 1800 688 831, email us at admin@pdcnsw.org.au or use our contact form.
Read what others are saying about NDIS Plans in Practice!
"Attending the workshop presented by PDCN was a revelation. Not just that the presenters were informed and knowledgeable, they were living examples of how a good life could be made under the NDIS. They were concise and certain, all the things nobody else has been. The sense of empowerment and decisiveness I came away with has stayed with me."
– Emma, Gosford
"Informative, engaging and encouraging workshop. Excellent facilitators!"
– Participant, Mittagong
"The facilitators were excellent, full of extra tips on how to approach things outside the box. A wealth of knowledge! They gave a real-life perspective of how things are for participants and offered strategies that are meaningful."
– John, Toongabbie
"Very practical and informative course. The course was very useful and really made clear areas where I had some confusion. We also had the chance to share experiences."
– Meg, Toongabbie
"The facilitators were excellent, knowledgeable and well experienced, very respectful and caring. They answered all our questions and kept us updated. Honestly, it is the best workshop I've attended in the last two years. I learned a lot and feel empowered."
– Abbey, Liverpool