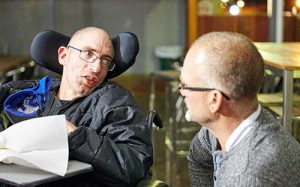 At recent meetings between new Minister for Disability Services Gareth Ward and PDCN the Minister made it clear that as a person with disability himself he is very keen to hear from people who are worried about the imminent loss of disability advocacy funding to PDCN and other organisations.
He suggested that people who are concerned about the loss of vital funding to PDCN should write to their local MP, and ask them to make a formal representation to Minister Ward and Premier Berejiklian on your behalf to ensure continued funding and access to services and supports.
So we've created this easy-to-use form which will automatically locate your local MP for you, and allow you to send a letter to them. We've prepared a letter for you so you can send it as it is – or you can easily edit it to tell your personal story.
Please take a few minutes now to take this simple action, which will help to bring home to the NSW Government just how important advocacy services such as PDCN are to you!

Of course, if you want to take this further, you can visit your MP in person – just print out the letter and take it with you!